WHAT'S YOUR WORD: MyIntent Bracelet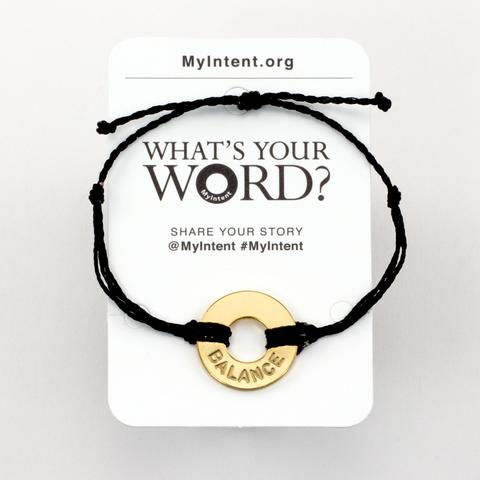 WHAT'S YOUR WORD: MyIntent Bracelet
FREE Shipping
These Twist bracelets are made of waxed nylon and have a slight shine. Your WORD will be hand engraved by our artisans by ME. <3
All custom bracelets come attached to a card signed by me attached to a MyIntent WORD card.
—————————————————————————————————————————
MyIntent Project is a catalyst for
meaningful conversations and positive action.

We believe there is purpose inside each of us and we want our efforts
to encourage people to share more truth and inspiration with each other.
We are not a jewelry company - we are a service project.
Est. 2013 - Founder Chris Pan
What do you think the world needs more of?
- Meaningful conversations, on stuff that matters to us.
- Community, where we support each other in our journeys.
- People living with purpose, passion
How do you define success?
By the number of people we engage and share their intent, then those touched by those stories and conversations, and the people who are living more intentionally.
How will you get there?
Collaborations with organizations that share a similar ethos for intentionality and impact.
Building a network of "activators" and sharing via word-of-mouth.
GIFT A WORD
MyIntent is the perfect way to give a personalized and meaningful gift to yourself or someone else.
To identify your WORD or your recipient's WORD, try answering the following questions:
What WORD best describes you/him or her?
What inspirational message do you want to remind them of?
What are your/their hopes and dreams?
What cause do you/they fight for?
INSPIRATION
ADVENTURE
BALANCE
BE KIND
BE PRESENT
BE STILL
BEAUTIFUL
BELIEVE
BLESSED
BRAVE
BREATHE
COMPASSION
CONFIDENCE
COURAGE
CREATE
DETERMINED
ENOUGH / YOU ARE ENOUGH
FAITH
FAMILY
FEARLESS
FOCUS
GOD HAS A PLAN
GRACE
GRATEFUL
GRIT
HAKUNA MATATA
HAPPINESS
HOPE
INSPIRE
INTEGRITY
JOY
JUST BREATHE
KINDNESS
LET GO
LOVE
PASSION
PATIENCE
PEACE
PERSEVERE
PURPOSE
RESILIENT
SERENITY
STRENGTH
SURRENDER
SURVIVOR
TODAY
TRUST
UNBREAKABLE
UNCONDITIONAL
WARRIOR
WORTHY
YOU GOT THIS